ICCD 2020 Meeting &amp Hospitality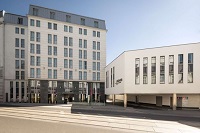 The City
Vienna is the national capital and the largest city of Austria. It has a population of about 1.9 million and is located in the Eastern part of Austria. It adjoins with the Czech Republic, Slovakia, and Hungary. Vienna is the sixth-largest city by population in the European Union. It is also the second-largest German speaker city in the world. The city is known for its unique combination of traditional and modern architecture. It is also famous for its cultural events, royal sights, and grand monuments, museums, buildings, and gardens. Vienna is also known as the 'City of Music' and the 'City of Dreams'. In the late 2000s, Vienna was ranked the number one destination for organizing international conferences and meetings. The city is also a home for many musicians, actors, writers, and politicians.
Vienna is the chief center of education in Austria. It hosts many colleges, universities, and high schools. The city is very rich in research, technology, and innovations. It is the fastest-growing city in Austria that showcases an excellent economic growth. Healthcare in Vienna is gradually expanding. It has a well-established health infrastructure, immediate paramedical assistance. It also hosts many hospitals with different specializations.
Some of the tourist attractions in Vienna, Austria are The Hofburg, St. Stephen's Cathedral, Schönbrunn Palace, The Vienna Zoo, Vienna City Hall, The Belvedere Palace, St. Peter's Church, Karlskirche, The National Theater, The Vienna State Opera House, Hundertwasserhaus, Kunsthistorisches Museum, Natural History Museum, Austrian National Library, The Austrian Parliament Building, The Imperial Crypt, The Demel Café, Donauturm, Wiener Riesenrad, and Kärtner Strasseand many more.
Directions
Route Map