Chronic Diseases 2021 Meeting &amp Hospitality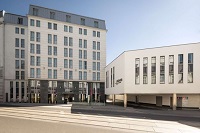 The City
5th International Conference on Chronic Diseases!! To be held on April 26-27, 2021!!
Dubai is a city and emirate in the United Arab Emirates renowned for luxury shopping, state-of - the-art architecture and a vibrant nightlife scene. Burj Khalifa, a tower 830 m tall, dominates the skyline full of skyscrapers. Dubai is a very young tourist destination that has recently gained prominence. Dubai has proven to be a very popular destination and has controlled its economy despite its recent crisis in 2009. Including exclusive resorts and hotels with deserts in the city makes it a unforgettable destination with a pleasant experience and desserts that make it close to Las Vegas in America, Dubai has become an elusive vision that is now an oasis of fun in a very promising setting. Dubai has made its reputation internationally and has successfully kept up with the rising demand and needs of the sector.
The worldwide market for chronic disease management, device technologies and innovations, and therapeutic methods are expected to develop from $340 billion of every 2019 to $490 billion by 2024, at a CAGR of 7.2% from 2019 through 2024. Chronic disease management incorporates various medications and medical device-based strategies that are used for the management of various diseases. The chronic disease management market is estimated to reach about 5000 million USD in 2025 with a 14.5% CAGR.
Directions
Route Map